What to Look for in a Quality Drug Rehab
Treatment facilities are designed to help you understand the source of your substance use disorder and to learn (or relearn) how to live a happy, joyful life without the crutch of drugs and alcohol. Usually, addiction is a symptom of some other underlying issue, not the disease itself. Drug rehab provides a safe place free of triggers for you to heal and recover.
When you arrive at the recovery center, you'll normally meet with a staff member for your intake. They'll assess your physical condition, by taking vital signs, drawing some blood, or taking a urine sample. They'll also want to know what drugs you've been taking, how long you've been taking them, and how much you usually do at a given time. While you may previously have tried to hide your usage from friends and family, you're better off telling the truth at rehab.
They might also have you undergo a psychiatric assessment. It's very common for people with addiction issues to suffer from mental health disorders, with ADHD, bipolar disorder, borderline personality disorder, and schizophrenia being pretty common. Even if you've never been diagnosed with one of these before, co-occurring disorders can also be treated at drug rehab.
Once you've been assessed, the staff will make a recommendation for your treatment going forward. You may need detox so that you'll be monitored and kept comfortable during the withdrawal process. After detox, you might need inpatient treatment, which is highly structured. You live at the facility for the duration of the program. 
After inpatient, you might be offered outpatient treatment as part of your transition to the "real" world. Some people are able to go directly to outpatient rehab, but others need a longer time in treatment to make sure that they are able to stay clean and sober after they leave.
Whether you attend inpatient or outpatient or both, you'll be in therapy, typically in both one on one sessions and in group settings. Along the way, you'll plan your aftercare as well so your recovery journey continues after treatment.
What are the Types of Treatment That a Drug Rehab Should Offer?
It's important that you have the benefit of evidence-based treatment while you're at the recovery center. These are techniques that are known to work and be effective in helping addicts stay clean once they've detoxed from their substance of choice.
These include behavioral therapies that address errors in your thinking and feeling so that you see clearly what's happening and can use healthy coping mechanisms instead of relying on drugs. You may have heard of cognitive behavioral therapy, which can help you reframe unhelpful and challenging thoughts into ones that help you take healthy action. Similarly, dialectical behavior therapy will help you address emotions that might otherwise make you reach for a drink or a drug.
It's important for your drug rehab to offer life skills or life management therapies or classes. You'll learn how to address situations that used to lead to drug and alcohol use. These types of skills might include anger management classes, stress reduction strategies, and relapse prevention techniques.
You may need detox facilities to help you withdraw from drugs and alcohol safely and comfortably. That way you don't have to relapse to prevent the pain. While not everyone needs a supervised or medical detox, it's often a good idea to go to a recovery center that does have it in case you need it. Particularly if you've tried to quit before and weren't able to do it successfully.
You'll also want to attend a facility that can help you with a dual diagnosis of a mental health disorder. You may not have been previously diagnosed. But if you do have one, it's best to receive treatment for it at the same time you're healing from your addiction. 
Important Amenities To Look for in a Drug Rehab Center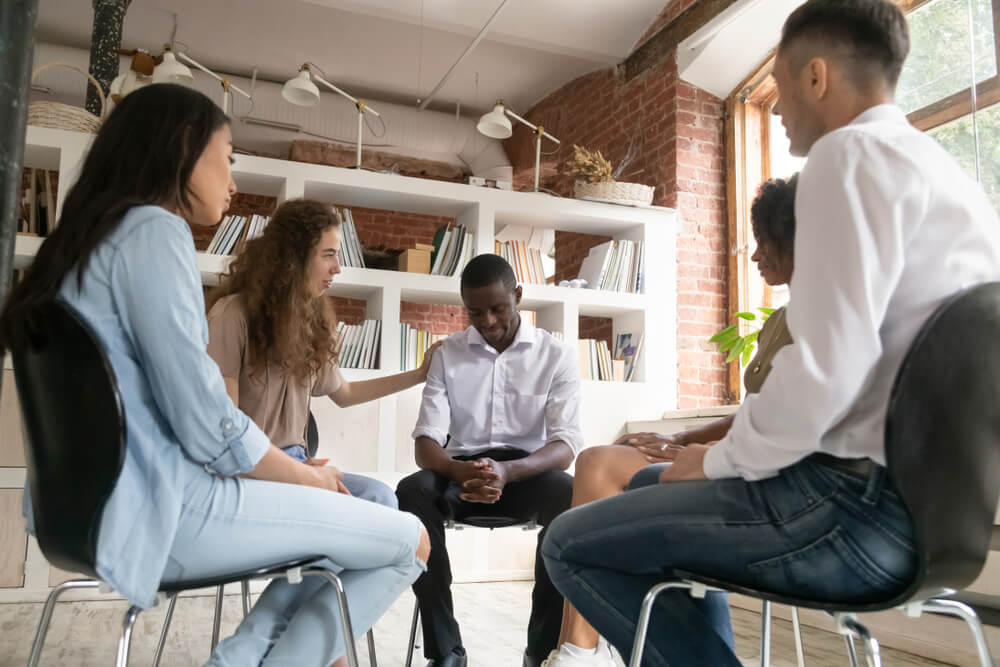 While some luxury drug rehabs offer top-of-the-line features, it's not necessary for you to get (and stay) clean and sober. You may want to attend a treatment facility that offers massages or dry sauna or personal trainers or five-star chefs, but you don't absolutely need them for recovery. However, there are some amenities that a recovery center should provide that will help you on your journey.
While a personal trainer isn't strictly necessary, being able to exercise is. Some people with substance use disorders arrive at rehab physically weak or in bad condition but find themselves becoming healthier as treatment goes on. Exercise helps chase away "the blues", in addition to the physical benefits from it. It's a great way to let out frustration and anger too.
Known triggers for using are getting too hungry, angry, lonely, or tired (HALT). Eating nutritious meals helps your body and your brain adjust to a healthy lifestyle, and can help heal some of the damage done by too many drugs and alcohol. Some facilities offer nutrition classes, which can be helpful if not absolutely necessary to your recovery.
Sometimes, especially in inpatient facilities, you need a break from all the therapy. Having fun in other ways without drugs also helps prevent HALT. Plus, you may find that you develop bonds with other patients who are in similar situations, and you can support each other and hold each other accountable.
Mindfulness classes (meditation, yoga, etc.)
Being able to exist at the moment without dreading something in the future or wishing for something you had in the past is the essence of mindfulness. It can be invaluable for stress reduction. Some facilities might offer more than one way to explore mindfulness, but you'll want a drug rehab that has at least some training in these techniques.
Rehab for Drug Addiction: Get the Comprehensive Treatment You Need at TruPath Recovery
Should I Travel or Stay In-State For Drug Rehab?
Whether you should stay close to home or go far away depends mostly on your situation. If right now you're living with a lot of other addicts or other people who can't offer you much in the way of support, it might be better for you to go to rehab elsewhere. A key factor in relapse prevention, especially early on, is avoiding the people, places, and things that you associate with drinking and using. 
However, if you can rely on your friends and family for the right kind of support, staying close to home might be the right idea. You won't be with strangers, and the comforts of being at home or near the home could make it easier for you to stay clean. (But if your friends and family tend to enable your addiction rather than support your recovery, you might consider traveling instead.)
Does Insurance Cover the Costs of Drug Rehab?
Most insurance carriers do cover mental health, and addiction is considered a mental health issue. Some states even mandate that insurance companies cover drug rehab and associated services in order to do business in the state.
Having said that, it's always a good idea to make sure the rehab you're considering accepts your insurance. As always when it comes to healthcare, make sure you read the fine print so you don't end up with any unexpected surprises.
TruPath Is a Network of the Best Facilities For Drug Rehab
At TruPath, we offer drug rehab at locations all across the country. Whether you need to travel to get the treatment you need or not, we can help you get and stay clean. Our facilities offer a variety of amenities and evidence-based treatment. We'll help you plan aftercare so that you can stay clean and sober even after you graduate from our recovery centers.
Don't wait any longer to get help and begin living the fun, healthy, and fulfilling life that you deserve. Give us a call at (888) 292-1933 today to get started.