What is Xanax?
Struggling with addiction is something that is challenging for any person at any age. Anxiety can make you feel as though you have absolutely no control over what is going on in your head or with your body. Some people, are able to find ways in their life that can help them to work through or overcome their anxiety. However, for many other people, their anxiety is so severe that they need medication to help them manage it. While there are several benefits of incorporating a medication such as Xanax into your daily routine to help you to manage your anxiety, it's important to remember that there are also several drawbacks of it as well including the fact that there is a possibility that you could develop an addiction to this substance. 
If you suspect that you or a loved one may be suffering from an addiction to Xanax, the best thing that you can do is to reach out for help. At TruPath, our team of addiction experts is here to help you to address your Xanax addiction on a holistic level. Taking this personalized treatment approach will help you to not only work through your addiction but help you to remain sober going forward. 
7 Signs of Xanax Addiction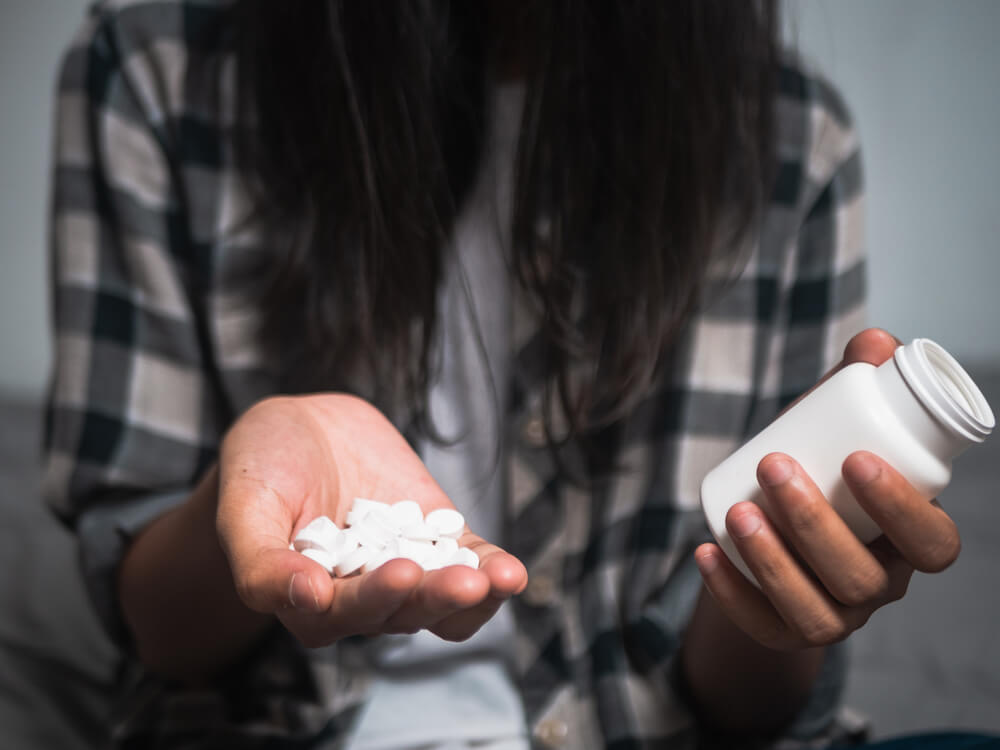 There are several signs that a person may exhibit if they are struggling with a Xanax addiction. A few of the common examples include: 
Shakiness if a person has not taken this medication for a period of time 

Cravings 

Erratic behavior 

Financial issues 

Frequently changing doctors 

Relationship problems 

Loss of job due to substance abuse 
Remember, addiction is something that can impact every person differently. Therefore, the most beneficial thing that you can do is to reach out to an addiction expert so that they can guide you through the possible signs of Xanax addiction and what steps you should take. 
What is the Process of Xanax Withdrawal?
You may be surprised to learn that Xanax withdrawal symptoms are something that can set in in as little as 24 hours after the last dose of this medication. Even using this medication for a short period of time is something that can start to trigger a dependence on it. Therefore, it's critical that you reach out to a detox facility such as the one that you will find at TruPath as soon as possible to address your possible addiction issues. Our treatment team is available around the clock to help to guide you through the process and answer any questions that you may have. 
The first step in this process is experiencing the initial withdrawal symptoms. These symptoms are ones that can vary depending on several different factors including the extent of your substance abuse as well as the length of time that you have been taking this substance. 
Once your initial withdrawal symptoms set in, you will experience the height of those symptoms within the first 72 hours of your time in detox. During this time, it's critical that you receive the help and support that you need as it will be challenging for you to care for yourself at this stage of your recovery. Our treatment team provides you with the around the clock care that you need at this stage of your recovery. 
One of the detox options that we offer at TruPath is a medical detox program. Medical detox is something that can be incredibly beneficial for a person as they are experiencing detox symptoms due to the fact that it can provide you with the additional support that you need during the detox process. You will have access to different medications that can help to offset or reduce the severe impact of your withdrawal symptoms which is something that can help to make this process much less traumatic. 
Xanax Withdrawal Symptoms
There are several Xanax withdrawal symptoms that you may experience during the time that you are going through the detox process. Just a few examples of these symptoms can include: 
Problems sleeping 

Losing your appetite 

Anxiety

Panic attacks 

Sweating 

Muscle spasms 

Tremors 

Psychosis 

General pain or discomfort 

Hyperventilation 
In severe cases, there is always the possibility that you could also suffer from a seizure or, even worse, death as a result of the combination of these withdrawal symptoms. To avoid all of this, please reach out to our treatment team right away so that they can provide you with the guidance and care that you need during this particularly challenging time in your recovery. 
Overcome Your Xanax Addiction at TruPath
If you are ready to face your Xanax addiction and need help in working through your Xanax withdrawal symptoms, the TruPath team is here to help. We understand the struggles that are often associated with substance abuse which is why we always go the extra mile to ensure that you have the support and care that you need to navigate these challenging issues. Once you complete your detox program, the next step in the process is to commit to a comprehensive addiction treatment program which will help you to address your substance abuse. At TruPath, we offer customized addiction treatment programs so that you can make the most out of your time in treatment. 
If you liked the structure and the care that you received during the time that you were in detox, then you may be well suited for an inpatient treatment program. Also commonly referred to as a residential treatment, inpatient treatment provides you with the environment that you need to be able to focus on yourself and your recovery. Inpatient treatment lasts anywhere between 30 and 90 days and begins after you complete your detox program. During this period of time, you will be able to live on the campus of our beautiful treatment facility where you will enjoy around the clock care from our addiction treatment team. Not only that, but you will also have the opportunity to interact with other people who are in the process of working through their own treatment program. 
If you cannot or don't feel comfortable committing to an inpatient program, another alternative is one of our outpatient treatment programs. An outpatient program offers more flexibility in the sense that you will be able to work, go to school or see to other important responsibilities throughout the time that you're in treatment. You will also live at home which can help you to feel more comfortable with the premise of addiction treatment. We will work with you to put together a treatment program that suits your needs and allows you to get the help and care that you need without you feeling as though you need to choose between your sobriety or these responsibilities. Similar to an inpatient treatment program, outpatient programs also take place for anywhere between 30 and 90 days. Also, you can transition into an outpatient program following an inpatient program if you feel as though you need additional support following your initial program. The options that you have will be discussed with you in further detail following your initial treatment program. 
The TruPath team is available right now to help you get started on your recovery journey. Get in touch with us today!